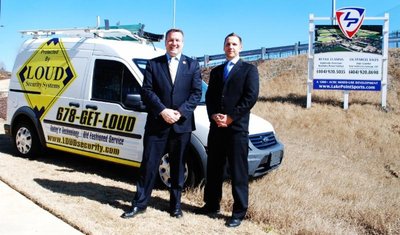 LakePoint Sports in Emerson, the Southeast's premier competitive sports destination, recently announced Kennesaw-based LOUD Security Systems Inc. as the exclusive provider for the entire LakePoint Community security services. Under the terms of the multi-year, multi-million dollar sponsorship agreement, LOUD Security Systems will be LakePoint Sports' exclusive provider for all of the complex's surveillance camera systems, access control systems, security/fire protection equipment and monitoring.
LakePoint selected John Loud and his team after careful consideration of the long-term goals of the full-campus development. Furthermore, LOUD is a local business, with deep roots in the local community — a quality that resonated strongly with LakePoint's Board of Directors. Every tenant on the LakePoint property will benefit from the company's expertise and LOUD will bring to the table a custom tenant approach, choosing the right products for each hotel, retailer and other future business developments.
"We researched the security system industry, looking for the right partner in creating a safe and well-monitored environment for our tenants," said Earl Ehrhart, LakePoint Sports co-CEO. "We found LOUD Security to be the most technologically reliable in terms of its equipment and service offerings. We are also impressed with LOUD's corporate culture, which has been hailed by security industry media as one of the best in the country."
The LakePoint development will include 1,200-plus acres of sports venues, commercial, retail and entertainment options.
"This is a great opportunity for LOUD Security, for LakePoint and for the businesses that will put down roots there," said John Loud, president of LOUD Security.
LOUD Security Systems, established in 1995, has grown to become one of Atlanta's leading and most respected security companies, with about 60 employees and almost 7,000 customers. The company was selected as the Cobb Chamber of Commerce Small Business of the Year award winner for 2014. It also has earned several national and local awards from companies such as Honeywell, First Alert and HAI.
For more information about the LakePoint Sporting Community, visit www.lakepointsports.com. For more information about LOUD Security Systems Inc., visit www.loudsecurity.com.
Read more: The Marietta Daily Journal – Kennesaw based LOUD Security named exclusive provider for LakePoint complex