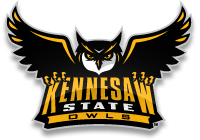 KENNESAW, Ga. – The Kennesaw State University Department of Athletics and LOUD Security Systems announced today a multi-year sponsorship agreement. LOUD Security's investment will provide significant support to KSU's Department of Athletics and its student-athletes, as the school prepares for its inaugural football season in 2015.
"John Loud has been a strong community advocate for Owl Athletics since my arrival in Kennesaw," said KSU Director of AthleticsVaughn Williams. "We are extremely excited that LOUD Security has committed to furthering their support by becoming a corporate partner. It's always important to align yourself with those that have the same core values. LOUD Security stand for excellence and so do the Owls."
The deal will put LOUD Security in the forefront at many athletic events, including the "Get LOUD" video board activation as well as signage at both Fifth Third Bank Stadium and the KSU Convocation Center.
"LOUD Security Systems is extremely proud to partner with KSU's Department of Athletics starting in 2015," said President John Loud. "Our goal is to help secure the success of all the students and student-athletes of Kennesaw State University. We believe KSU shares the same quality of service to its students and faculty as LOUD Security does to its customers. We hope to encourage the fans and students to get LOUD and be proud of this great University and the great community that we both call home.
Go Owls! See you in 2015 "
LOUD Security Systems, Inc. founded by President John Loud back in 1995 has grown to employ 58 people in the Kennesaw area. LOUD Security Systems is the seventh largest security monitoring company in the Atlanta metro area. LOUD Security monitors both residential and commercial locations in 15 different states but is headquartered here in Kennesaw, Georgia. LOUD Security Systems was recently awarded the 2014 Cobb County Small Business of the Year award winner by the Cobb Chamber of Commerce.